Blog
About
Services
Contact
Solutions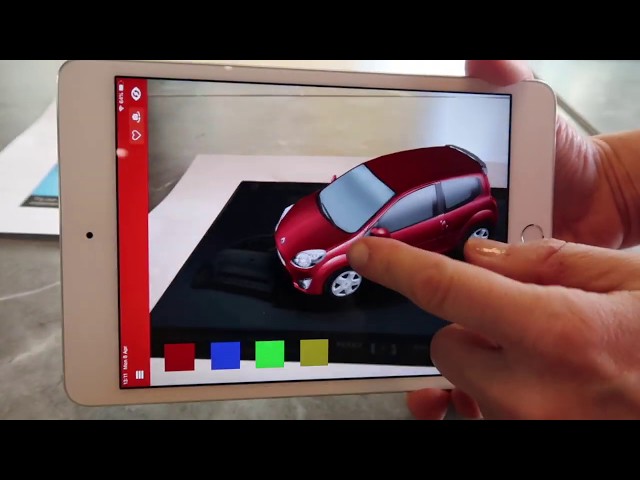 Augmented
Reality
Immersive
Experiences

Book a Free Consultation
Augmented Reality is a technology that overlays digital content onto the real world.
We create AR Experiences to help businesses to add another dimension to their marketing communications and enhance customer experience.
Improve Communication
AR allows users to consume content in more more interactive ways improving customer experience.
Increase Exposure
Create Memorable experiences and stand out. AR provides new prospects for marketing and advertising such as branding and cross channel marketing opportunities.
Engage your Audience
Use AR to turn all your passive product, packaging, brochures or any other marketing collateral into active digital channels for greater customer engagement.
Maximise ROI
AR creates business value by improving performance across the value chain – product development, manufacturing, service and many other areas.
Our Services
AR Workshops
Our workshops are ideal for business that are interested in exploring the technology and are looking to better understand AR as a marketing tool.
More Info trending_flat
AR Consultancy
Having a good AR strategy is vital.
We can help you with defining the right strategy to deliver your AR project with confidence.
More Info trending_flat
AR Production
We have a dedicated team of AR specialists in, UI and UX design, graphics, 3D animation and coding taking care of your project from concept to delivery.
More Info trending_flat
AR for Events
AR for Retail
AR for Real Estate
AR for Healthcare
AR for Tourism
New Layer
AR for Packaging
AR for Marketing
AR for Training
AR Creates Business
Value
"The AR experiences delivered almost double (1.9 times) the levels of engagement compared to their non-AR equivalent."

Neuro-Insight
Get Started
DATING
Dating in Big Cities
TRAVEL
The Marvellous Grand Canyon
TRAVEL
Art Exhibition in San Francisco
MUSIC
Rock 'n Roll in Main Arena
MISC
Interesting Skyscrapers
TRAVEL
Travel to Our Suggested Nature Retreats
TRAVEL
All-Inclusive Roundtrip in NYC
PHOTOGRAPHY
Macro Photography Highlights
DATING
Dating in Big Cities
TRAVEL
The Marvellous Grand Canyon
TRAVEL
Art Exhibition in San Francisco
MUSIC
Rock 'n Roll in Main Arena
MISC
Interesting Skyscrapers
TRAVEL
Travel to Our Suggested Nature Retreats
TRAVEL
All-Inclusive Roundtrip in NYC
PHOTOGRAPHY
Macro Photography Highlights
DATING
Dating in Big Cities
TRAVEL
The Marvellous Grand Canyon
TRAVEL
Art Exhibition in San Francisco
MUSIC
Rock 'n Roll in Main Arena
MISC
Interesting Skyscrapers
TRAVEL
Travel to Our Suggested Nature Retreats
TRAVEL
All-Inclusive Roundtrip in NYC
PHOTOGRAPHY
Macro Photography Highlights
DATING
Dating in Big Cities
TRAVEL
The Marvellous Grand Canyon
TRAVEL
Art Exhibition in San Francisco
MUSIC
Rock 'n Roll in Main Arena
MISC
Interesting Skyscrapers
TRAVEL
Travel to Our Suggested Nature Retreats
TRAVEL
All-Inclusive Roundtrip in NYC
PHOTOGRAPHY
Macro Photography Highlights
DATING
Dating in Big Cities
TRAVEL
The Marvellous Grand Canyon
TRAVEL
Art Exhibition in San Francisco
MUSIC
Rock 'n Roll in Main Arena
MISC
Interesting Skyscrapers
TRAVEL
Travel to Our Suggested Nature Retreats
TRAVEL
All-Inclusive Roundtrip in NYC
PHOTOGRAPHY
Macro Photography Highlights
DATING
Dating in Big Cities
TRAVEL
The Marvellous Grand Canyon
TRAVEL
Art Exhibition in San Francisco
MUSIC
Rock 'n Roll in Main Arena
MISC
Interesting Skyscrapers
TRAVEL
Travel to Our Suggested Nature Retreats
TRAVEL
All-Inclusive Roundtrip in NYC
PHOTOGRAPHY
Macro Photography Highlights
DATING
Dating in Big Cities
TRAVEL
The Marvellous Grand Canyon
TRAVEL
Art Exhibition in San Francisco
MUSIC
Rock 'n Roll in Main Arena
MISC
Interesting Skyscrapers
TRAVEL
Travel to Our Suggested Nature Retreats
TRAVEL
All-Inclusive Roundtrip in NYC
PHOTOGRAPHY
Macro Photography Highlights
DATING
Dating in Big Cities
TRAVEL
The Marvellous Grand Canyon
TRAVEL
Art Exhibition in San Francisco
MUSIC
Rock 'n Roll in Main Arena
MISC
Interesting Skyscrapers
TRAVEL
Travel to Our Suggested Nature Retreats
TRAVEL
All-Inclusive Roundtrip in NYC
PHOTOGRAPHY
Macro Photography Highlights
DATING
Dating in Big Cities
TRAVEL
The Marvellous Grand Canyon
TRAVEL
Art Exhibition in San Francisco
MUSIC
Rock 'n Roll in Main Arena
MISC
Interesting Skyscrapers
TRAVEL
Travel to Our Suggested Nature Retreats
TRAVEL
All-Inclusive Roundtrip in NYC
PHOTOGRAPHY
Macro Photography Highlights
DATING
Dating in Big Cities
TRAVEL
The Marvellous Grand Canyon
TRAVEL
Art Exhibition in San Francisco
MUSIC
Rock 'n Roll in Main Arena
MISC
Interesting Skyscrapers
TRAVEL
Travel to Our Suggested Nature Retreats
TRAVEL
All-Inclusive Roundtrip in NYC
PHOTOGRAPHY
Macro Photography Highlights
DATING
Dating in Big Cities
TRAVEL
The Marvellous Grand Canyon
TRAVEL
Art Exhibition in San Francisco
MUSIC
Rock 'n Roll in Main Arena
MISC
Interesting Skyscrapers
TRAVEL
Travel to Our Suggested Nature Retreats
TRAVEL
All-Inclusive Roundtrip in NYC
PHOTOGRAPHY
Macro Photography Highlights
DATING
Dating in Big Cities
TRAVEL
The Marvellous Grand Canyon
TRAVEL
Art Exhibition in San Francisco
MUSIC
Rock 'n Roll in Main Arena
MISC
Interesting Skyscrapers
TRAVEL
Travel to Our Suggested Nature Retreats
TRAVEL
All-Inclusive Roundtrip in NYC
PHOTOGRAPHY
Macro Photography Highlights
DATING
Dating in Big Cities
TRAVEL
The Marvellous Grand Canyon
TRAVEL
Art Exhibition in San Francisco
MUSIC
Rock 'n Roll in Main Arena
MISC
Interesting Skyscrapers
TRAVEL
Travel to Our Suggested Nature Retreats
TRAVEL
All-Inclusive Roundtrip in NYC
PHOTOGRAPHY
Macro Photography Highlights
DATING
Dating in Big Cities
TRAVEL
The Marvellous Grand Canyon
TRAVEL
Art Exhibition in San Francisco
MUSIC
Rock 'n Roll in Main Arena
MISC
Interesting Skyscrapers
TRAVEL
Travel to Our Suggested Nature Retreats
TRAVEL
All-Inclusive Roundtrip in NYC
PHOTOGRAPHY
Macro Photography Highlights
DATING
Dating in Big Cities
TRAVEL
The Marvellous Grand Canyon
TRAVEL
Art Exhibition in San Francisco
MUSIC
Rock 'n Roll in Main Arena
MISC
Interesting Skyscrapers
TRAVEL
Travel to Our Suggested Nature Retreats
TRAVEL
All-Inclusive Roundtrip in NYC
PHOTOGRAPHY
Macro Photography Highlights
ARCHIVES